9405 Bormet Drive, Suite 7, Mokena, IL 60448
Mokena | 815-727-6144
DuPage County | 630-852-9700 Oak Park | 708-848-3159
Contact Our Firm
NOTE: Fields with a
*
indicate a required field.
How would you prefer to be contacted?
E-Mail
Phone
No Preference
Briefly describe your legal issue.
*
The use of the Internet or this form for communication with the firm or any individual member of the firm does not establish an attorney-client relationship. Confidential or time-sensitive information should not be sent through this form.
I have read and understand the Disclaimer and Privacy Policy.

What Should I Do if I Suspect My Spouse Is Hiding Assets From Me?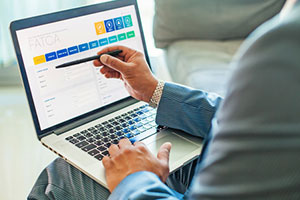 No matter the reason you and your spouse are getting divorced, there is probably some sort of tension between the two of you, even if it is just a small amount. In divorces involving couples who have a lack of trust, it is not uncommon for the property division process to be long and contentious. When you begin the process of allocating your assets, you and your spouse will have to provide information about all of your assets and debts. Full disclosure is required, though it is not always given. If you suspect your spouse is hiding assets from you, you should begin the process of uncovering those assets right away. Here are a few ways you can look for hidden assets if you suspect your spouse is not being truthful:
Start With Tax Returns
The first place you should begin to look for hidden assets is in your spouse's tax returns. Get copies of his or her tax returns from at least the last five years and examine them closely. Look at the sources of income that are listed, itemized deductions that were taken, capital gains and losses, and profits and losses from any businesses.
Check Bank Account Statements
Next, begin to examine your bank account statements from any financial institutions that you bank with. Look at both checking and savings accounts. You should be looking for any unusual deposits or withdrawals. Also, look for any canceled checks and who they are made payable to. You may be able to reveal the purchase of an investment or other property.
Use a Lifestyle Analysis
This type of analysis can also be helpful when it comes to figuring out if your spouse is hiding assets. Does your spouse's lifestyle match their income level? You should look at everything from the kind of clothes your spouse wears to the kind of car he or she drives. If there seems to be a disparity between their lifestyle and their reported income, they may be hiding some of the income they earn or the assets they own.
Hire a Skilled Will County Asset Discovery Attorney Today
When you are married, any property or assets that you or your spouse accumulate is considered to be marital property. When you get divorced, you are entitled to a portion of all marital property, which is why full disclosure is required. If you suspect your spouse is hiding assets from you, you should get in touch with a tenacious Orland Park, IL asset division lawyer to discuss your options. At Wakenight & Associates, P.C., we can help you find assets that your spouse may have hidden from you. Call our office today at 815-727-6144 to schedule a free consultation.
Sources:
https://www.forbes.com/sites/catherineschnaubelt/2019/03/08/finding-hidden-assets-in-a-divorce/#746f88eb6fd1
https://www.divorceandfinance.org/news/284737/Techniques-for-Discovering-Hidden-Assets-and-Unreported-Income-During-the-Divorce-Process.htm
https://www.wife.org/ss-hiddenassets.htm