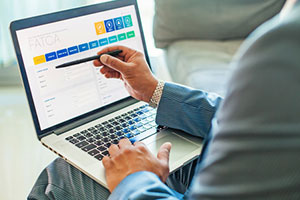 No matter the reason you and your spouse are getting divorced, there is probably some sort of tension between the two of you, even if it is just a small amount. In divorces involving couples who have a lack of trust, it is not uncommon for the property division process to be long and contentious. When you begin the process of allocating your assets, you and your spouse will have to provide information about all of your assets and debts. Full disclosure is required, though it is not always given. If you suspect your spouse is hiding assets from you, you should begin the process of uncovering those assets right away. Here are a few ways you can look for hidden assets if you suspect your spouse is not being truthful:
Start With Tax Returns
The first place you should begin to look for hidden assets is in your spouse's tax returns. Get copies of his or her tax returns from at least the last five years and examine them closely. Look at the sources of income that are listed, itemized deductions that were taken, capital gains and losses, and profits and losses from any businesses.
Check Bank Account Statements
Next, begin to examine your bank account statements from any financial institutions that you bank with. Look at both checking and savings accounts. You should be looking for any unusual deposits or withdrawals. Also, look for any canceled checks and who they are made payable to. You may be able to reveal the purchase of an investment or other property.
...