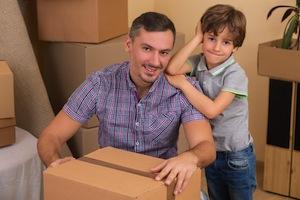 When you are a parent, almost everything you do is to make sure your child is happy and healthy. Your child's best interests are at the top of your list of priorities. Sometimes, doing the best thing for your child may include a relocation, which can be difficult to navigate, since it may require changes to child custody arrangements. In the state of Illinois, it is generally understood that a child flourishes better when both parents are active and involved in the child's life. Because of this, a relocation with your child must be approved by both your child's other parent and the courts. Even if your child's other parent objects to the relocation, you can still petition to relocate with your child as long as you can demonstrate that the move would benefit the child.
Starting the Relocation Process
Before you take your issue to the courts, you may want to address it between you and the child's other parent first. You should provide the other parent with notice regarding your intended move, and you must then file a notice of relocation with the clerk of the circuit court, and the other parent must sign that notice and file the signed copy. The notice of relocation should be filed at least 60 days before your intended relocation and should include your date of relocation and your new address. If the other parent objects to the relocation, or if you cannot come to an agreement about an updated parenting plan, then you will have to petition the court to allow the relocation.
How Relocation Decisions Are Made
In all cases involving children, courts make decisions based on what would be in the child's best interests. Factors that judges consider when making decisions about relocations include:
...